To give this thread a purpose, I'll try to show how - and why - the Ákat sentence ...
àkifdavihxà!bat àfittinoicux
(the horse carries a heavy load)
... ends up looking like this in the logoscript:
Firstly, some practical details about the logoscript
- the script is a recent development in the history of the language, which is itself is a 'reconstructed' language: the Nakap philosophers believed that the original language had been corrupted by time and wickedness, and sought to rediscover the original as part of their philosophical discourse (leading to a sort of 'warped' linguistics).
- because of the artificial nature of the language, in particular the 'recovery' of
core concepts
and the uncovering of regularised grammatical and derivational rules, the development of the logoscript was made a lot easier. It is important to remember that the logoscript is tied more closely to the philosophical underpinnings of the language than it is to phonology, syntax or grammar.
- the language is normally written in the commonscript (see example above). The logoscript is used for more artistic purposes. Books printed in the logoscript tend to be philosophical in nature. Among the wider public, the logoscript has found a home in signwriting, letterheads, posh invitations and announcements, etc.
- the script is generally painted with a reasonably fine, flattish brush, or written on paper using a broad-nibbed pen (reflected in the glyphology of the example above). Children tend to learn the script alongside the teaching of the commonscript, though emphasis is given to the commonscript with logoscript activities being the more 'fun' part of the curriculum.
- the script has been used for other Telik languages, particularly those used in the cities of southwestern Ewlah. These languages were the base material for the Nakap philosophers' development of Ákat, making the transfer of the logographs a little easier.
- the man who came up with the first set of glyphs claimed he found them written on a cave wall high in the Arakush mountains, thus making them a good candidate for developing the script. While even his close associates considered the man to be a bit unhinged, and his story doubtful (he was not an avid mountaineer), people liked the proposal of developing a logoscript to help them investigate and explain the language. This happened around 350-400 orbits ago.
Where is the script used?
Here's a map. Note that the features and names have been rendered in the Gevey language, though the names of the key cities we are interested in are a reasonable approximation (to the Gevey speaker's ear/eye) of how the locals would pronounce the names: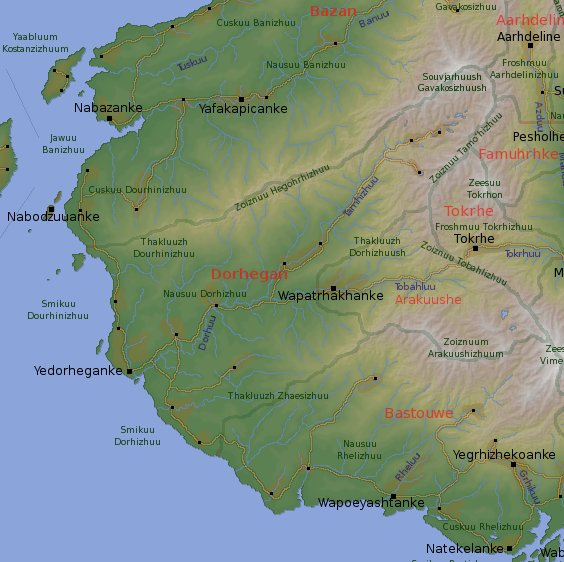 Questions are very welcome. For my next post, I'll talk about core concepts and their relationship to simple nouns and verbs.